I know I know...it's not even Labor Day yet and I should NOT be talking about Summer coming to an end. But I can't help it!! I love Summer, don't get me wrong, but there is something amazing about Fall! The cool air, the smell of fireplaces burning, leaves changing, PUMPKINS (I have a slight obsession with pumpkins...they are adorable) and TIGHTS!
The whole inspiration behind this post is that I just dropped a lot of money on tights for my Fall/Winter wardrobe. I have NO pants that currently fit me so that means I have like nothing to wear once Summer is over. I can honestly say that I have worn a dress or skirt to work everyday since April. I may have worn one pair of capri things that fit but you can't wear those in the Fall! So basically all I have are dresses and skirts. Which is fine...if you have tights!!
Transforming Summer dresses into Fall/Winter dresses is easy: add tights. Now, I am not saying you can add tights to every dress you wear in the Summer to get a Fall look (aka beachy looking dresses/skirts), that would be weird. But if you have a dress that isn't necessarily summery, then hell yes wear that sucka year round! That's what I plan to do!
Today I received an email with a coupon for that dreaded plus size store. Now...it's not that I haaaate shopping there but it's just annoying because when I was a size 24 it was pretty much one of my only options. Now that I'm more of a size 18 I don't buy a lot there anymore. Their clothes are ehhh. Sometimes you can find cute pieces and sometimes they all look too old ladyish for me. Hit or miss. BUT...I will say...that their basic everyday items are amazing. I have those lace tanks tops from there (yes you know which ones) in like every color, love them. Cacique is also amazing and I am soooo thankful that they offer sexy options for us adorably cute and chunky girls. Love it. ALSO...their tights!!!!!
Last year I wanted to rock the dark/colored tights look so bad but every store I went in didn't carry my size! And the ones that did the tights were like normal gross see through get at the drug store tights. Yeah...no thanks. Then I came across the tights at LB and they were perfection!!! They had the heavy cotton ones with the subtle designs. LOVE! I paired them with different dresses and skirts and rocked them all Winter long.
Here are some of my outfits from last year:
In some of the pictures you can see the detail in the tights and that is so adorable when you are wearing a solid color dress or skirt. I love it. I bought a few pairs early in the Fall but half way through the season they were IMPOSSIBLE to find. Everyone caught on and they were never in stock. So this year...when I got that coupon. I KNEW I had to stock up early. So that is what I did today! Let me show you what I got! :)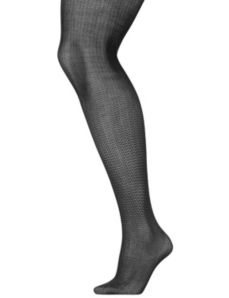 Chevron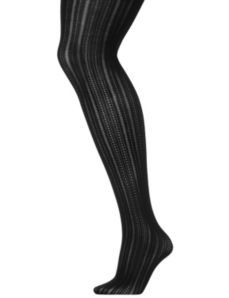 Pointelle
I only bought 3 pairs today because well...#1 I'm not made of money and #2 they didn't have the ones I really wanted (cable knit) in my size. So when they do, I will be buying them too! If you wanted to look around, you can find them
here
. Everything on the site is 40% off so make sure you use that code! I am in no way telling you to go get them, just letting everyone know what I'm obsessed with.
Sorry this isn't a weightloss themed post but it is also very important to me to help get rid of that annoying stereotype that "bigger" girls (hate saying plus size) can't dress. We CAN dress fashionably and cute and it is my personal mission to prove that. Soooo yeah. :)